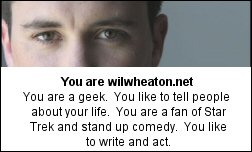 Which Website are You?
I only like Star Trek mildly.. sheesh. Some Stand Up Comedy is ok.. OFCOURSE I like to write.. who keeps a blog if they don't??! but act?? ME? lol na.
Ohh how Consuelo would be jelous of me being comparied to the heart throb of her youth... she was nuts about Wil.. absolutly nuts!
I may be a bit of a geek.. just for taking quizes like these!